Tasters, Testers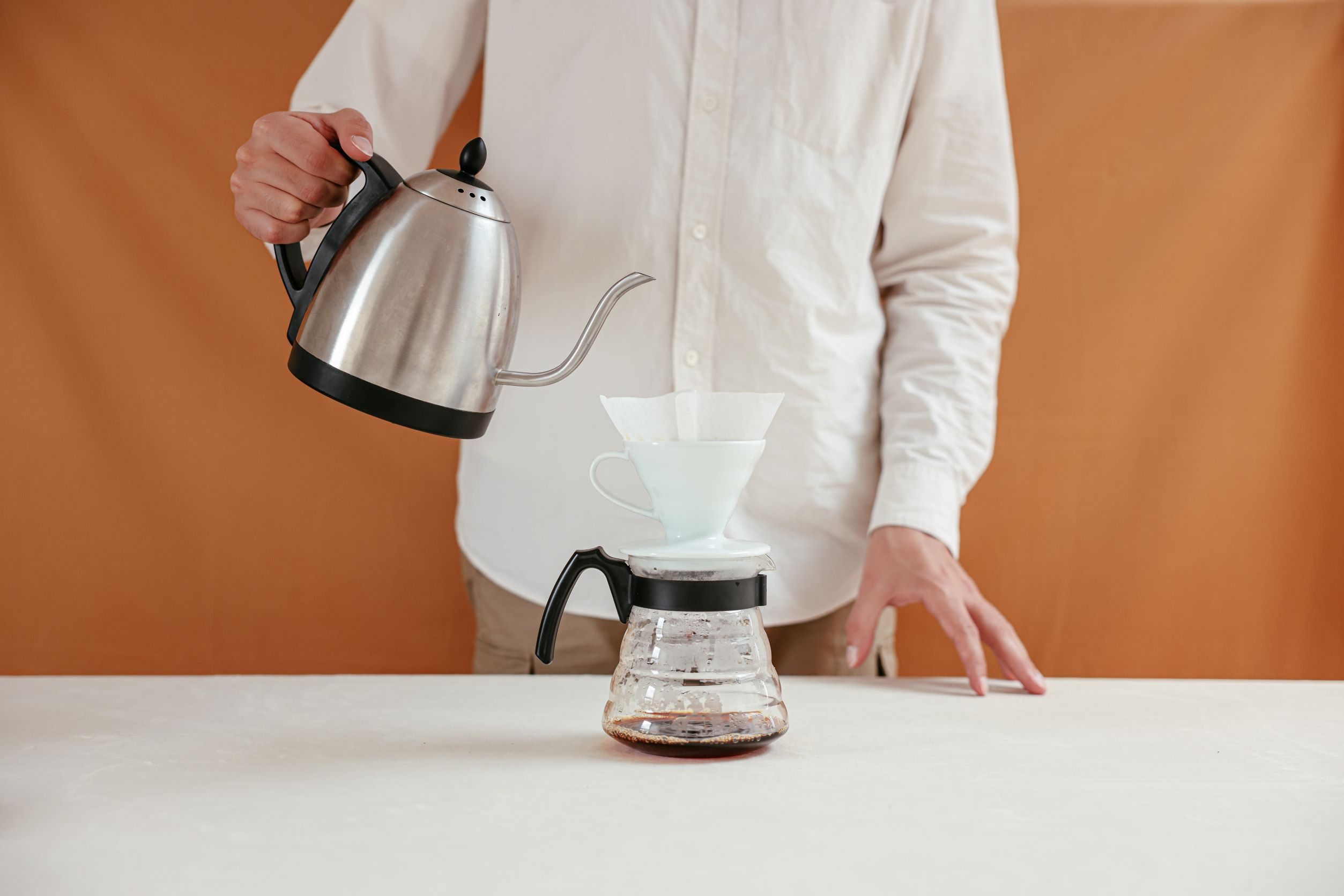 Hey guys, sorry for the little hiatus. October ended up being a lot busier for me than it usually is. I hope everyone had a fruitful and safe Halloween this year!
My birthday is a week before Halloween, so I've always loved this time of year. It's probably also a factor in why I'm so enamored with genre fiction, particularly horror and Sci-Fi. Growing up, most of my birthday parties doubled as a Halloween party, so I think over the years I have developed some sort of Pavlovian response to seeing ghosts, werewolves, and aliens. These things often remind me of simpler times.
My October was jam-packed with ghost tours, painting and hanging decorations, carving pumpkins, and much more. This year I spent my birthday and Halloween in a similar manner: with family earlier in the evening, then with a spooky movie/radio broadcast marathon a little later in the night once the moon was up and the freaks were out
The night before my birthday I saw a movie and then went to hang out with the bosses at their home for a delicious meal, which was followed up by a nice sampling of some different types of coffee. We tried some of the new beans we just added to the site (which are roasted the same day we order them), as well as some tasters of some beans from their private stash.
The movie was good; the meal was great. The meat was juicy and seasoned perfectly. Justin used his new rotisserie to cook them, and it all came out top notch. Melt-in-your-mouth goodness that was tasty enough that it's hard not to get seconds and thirds and regret it later.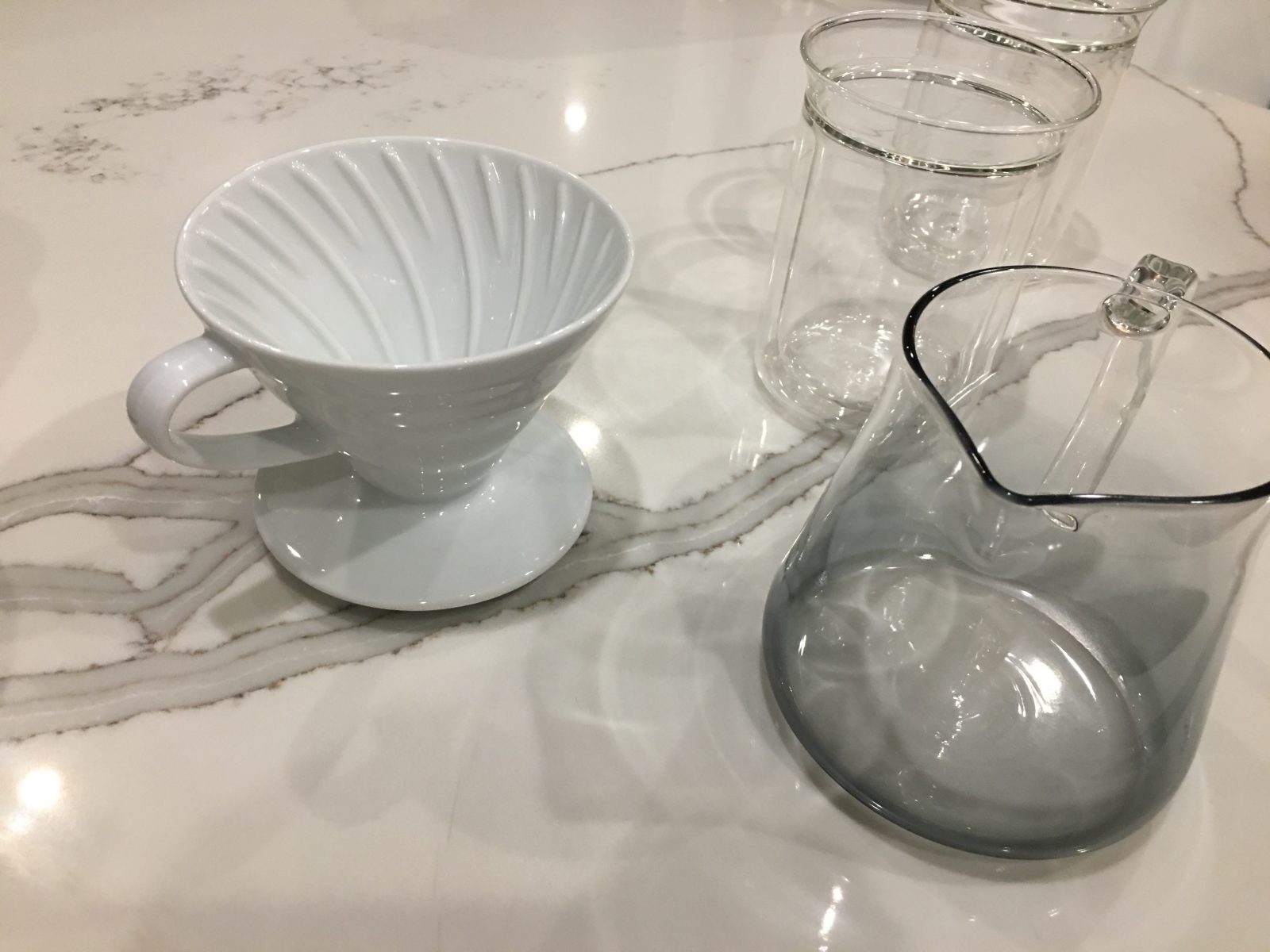 Method to the madness
Dinner was followed by a few minutes of lounging about and shooting the shit while our food digested to make room for some after dinner coffee. Justin broke out his pour-over coffee maker, a Hairo V60 that is white and sleek. I've always liked the way these types of coffee makers look, and this gizmo looks like a prop you might find among other beakers and bubblers scattered about a wooden table on the set of the OG Frankenstein.
Justin showed me how to fold the coffee filter so it sat flush and would stay in place during the brewing process. He got the filter in place, put the water on heat, and grinded/weighed out the coffee and added a pinch of salt to the grounds (to cancel out any bitterness), all while explaining what he was doing, and why he was doing it. His movements were those of someone who has performed a task enough times that it becomes second nature.
Once the water was the desired temperature (around 202° F), he removed it from the heat and carefully poured it over the freshly ground beans, while explaining that it's important to be consistent with your pour, and to not pour too fast. He poured for maybe 10 seconds or so, stopped, and asked if I saw how the coffee looked to be bubbling.
As soon as he pointed it out, the bubbling increased. This is a coffee bloom, he explained. Those bubbles are CO2 (Carbon Dioxide) and the bubbling means the CO2 was escaping. Offgassing. That's exactly what you want to see when brewing pour-over, and why you don't drown the grounds all at once. Seeing that gas escape through the bubbles is a precursor to a well-brewed cup of coffee.
The coffee dripped from the filter into the serving vessel beneath, the smell of it wafting up and through the room instantly. The color of the coffee was dark and rich, and once it was done brewing Justin carefully removed the filter and added a smidgen of Manuka mona-floral umf 15+ honey to the batch.
The first coffee we tried was our Brazilian Santos light roast. We've carried this coffee in medium roast before and it was one of my favorites. The first sip cemented this as my personal favorite coffee we have on our menu. It is rich and flavorful, and the half and half I added gave it a velvety mouthfeel that I really enjoyed. The honey gave it a subtly sweet aftertaste, just enough for it to complement the natural flavors of the coffee.
After this first cup I decided then and there that I want to get a pour over setup so I can give all of our coffees (and others) a proper taste. I had taken a little of this coffee home and brewed a pot in my drip coffee maker, and while it was still really good, it paled in comparison to the cup Justin prepared for me.
Since the coffee we were sampling is strong, and we wanted to try a couple types, we both enjoyed a few oz rather than a full size cup.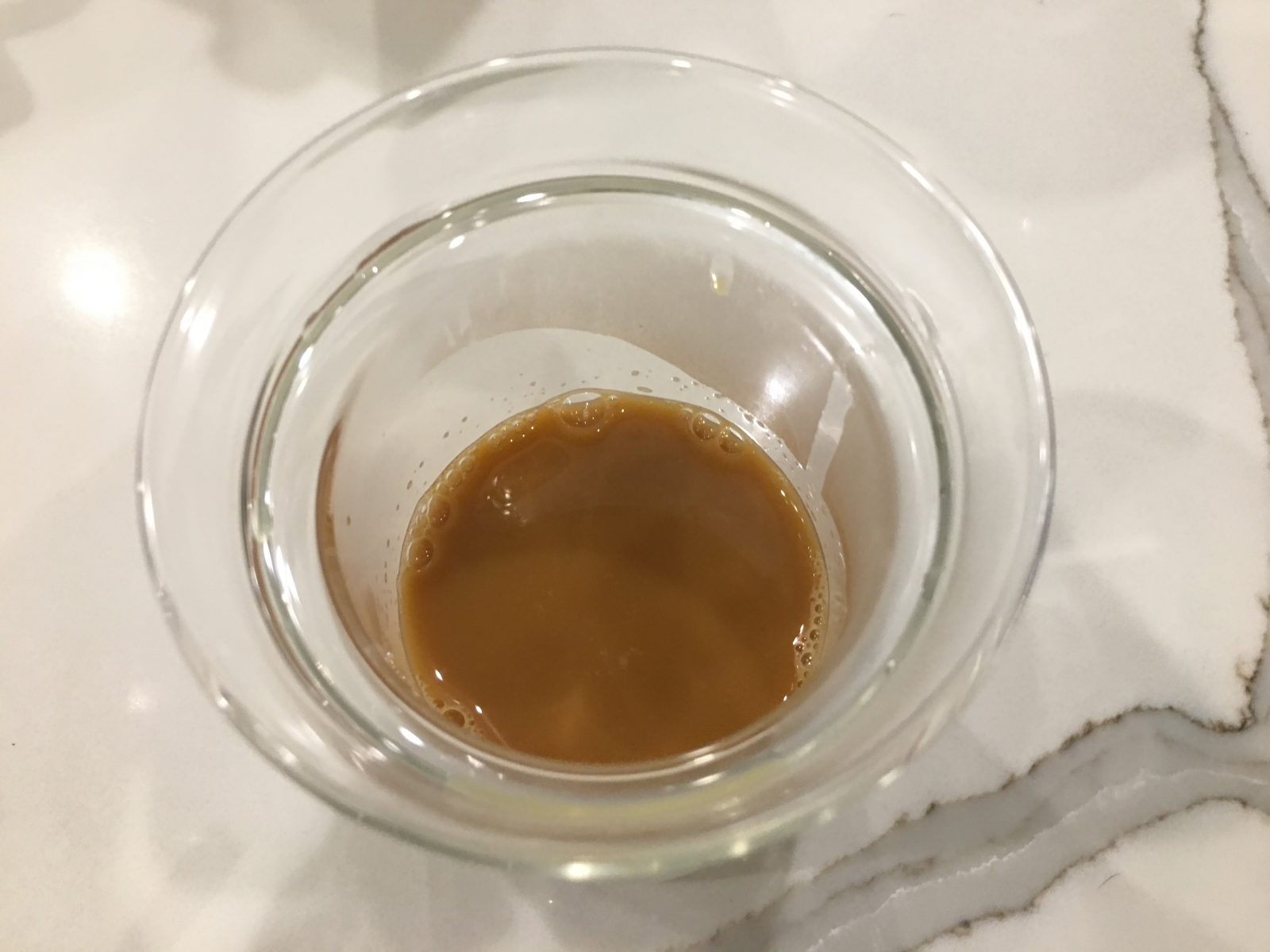 Breaking out the stash
Our next venture was a taste test of a coffee from bossman's private reserve. This coffee is a Costa Rican Las Lajas special whole bean. Just opening the small bag for a sniff made the room thick with its aroma. He ground some up and repeated the brewing process while we gabbed about work and life.
The first sip of this coffee was very interesting. At first it just tasted like a high quality cup of coffee, brewed with love. The subtle notes that followed my initial impression is where this one shines. There's a fresh fruit taste that lingers on the palate until you take the next sip. It worked in tandem with the coffee, half and half, and honey to make this a unique brew.
I'd never tasted coffee like that. I've had my fair share of flavored coffees (which I am not normally a huge fan of) but this coffee was not flavored. All of the flavors jam-packed into this bean were from its natural oils. The fruity notes this coffee possessed were part of its natural flavor profile. I didn't know coffee can taste like that without any added flavoring, it was quite a surprise.
Finishing my cup, I was left wanting more, but I could already feel the smooth energy that one associates with good coffee bubbling through my system. Any more and I would be jittery. Sampling these coffees was a great birthday gift, as well as the delicious cake that we all enjoyed after dinner (which I of course forgot to bring home at the end of the night)
All in all this was a great experience. Learning techniques for brewing coffee was a welcome bonus, as the only way I have ever brewed coffee is in a Mr. Coffee or French press. The act of preparing the coffee was almost as much fun as trying them, and I plan to use what I learned that night to try to perfect my own cup once I get a pour-over setup. We will be doing periodical tasting sessions, and I'll write up an even more detailed play by play for the next one!
Cheers!